Natural Soap, Naturally Simple
Handmade soap for those who want an easy way to care for their skin. Made with care, quality ingredients and ecofriendly.
Taking care of your families skin is important. Olive & Lather makes it easy with skin loving ingredients.
Give your skin that healthy glow that you've always wanted!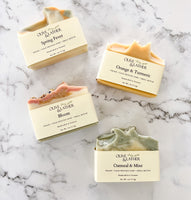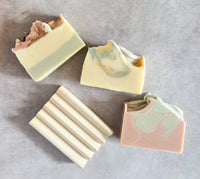 Simple & Beautiful
Natural ingredients that your skin will love! 
As always, our soap is free of synthetic fragrances, dyes, sulfates, parabens and phthalates.
In an effort to remain environmentally conscious, all of our soap is also Palm free.
Testimonials
Refreshing! I have tried many Olive & Lather products and I have truly enjoyed them all. I am currently using the Oatmeal & Mint. It is a refreshing way to start the day. I love how the fragrance fills my bathroom while I shower. The oatmeal provides gently exfoliation and the soap itself nourishes my skin which is not easy in the middle of winter.

Tara B
This soap is amazing. I don't typically buy bar soap, and this soap was given to me as a gift. There's no going back.
But why?
Yes it's a simple bar soap. But these smells and combination of oils is simply amazing. I've missed the right skin feeling bar soap leaves and this lives my skin feeling fresh, but not too dry. I still get excited to use it when I step into the shower. Can not recommend it enough.
Thank you!

Kemper G
Lotion Bars:

Amazing! We bought several of these bars to give to friends and family for the holidays. We've used them ourselves for over a year and LOVE them. My kids get super dry skin during the winter and this keeps it in check. If we forget to use it and their hands get chapped again, it only takes a day for their hands to start looking and feeling better.

We keep a bar in each child's backpack, one in the car and one in the house. I use it on the way to work and love that it doesn't freeze like lotion does. It lasts through multiple hand washings and you can even use them for chapped lips. They're fantastic!

Clarissa F
I used the Lavender bar for the first time this morning, it was amazing! Thank you

Karen Brodeur
So beautifully crafted and smell amazing! Great for the skin as well! If you are looking to give as a gift, these soaps are also beautifully packaged and cared for during delivery. Highly recommended from me!

Kelly Ernst
A Proud