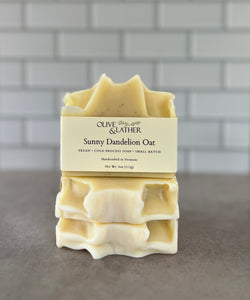 Sunny Dandelion Oatmeal
Naturally colored with dandelion infused organic olive oil, ground oatmeal, scented essential oils. 
Ingredients:
Dandelion Infused Olive Oil*, Water, Coconut Oil, Sodium Hydroxide, Cocoa Butter, Shea Butter, Sunflower Oil, Castor Oil, Sweet Orange Essential Oil, Rosemary Essential Oil, Lavender Essential Oil, Peppermint Essential Oil, Litsea Essential Oil, Lemongrass Essential Oil, Finely Ground Oats*
(* Certified Organic Ingredient)
After the saponification process occurs, no lye remains in the final product. 
This bar is vegan.
To extend the life of your soap: Place your soap in a draining soap dish and allow the bar to dry between uses. 
Note: These soaps are handmade in small batches so slight variations in design and color will occur. 
Approx. 4 oz bars
As always, our soap is free of synthetic dyes, fragrances, sulfates, parabens and phthalates. 
In an effort to remain environmentally conscious, all of our soap is also Palm free. 
**For external use only. Avoid contact with eyes. If skin irritation occurs, discontinue use. Always consult with your physician before using essential oils during pregnancy.